Tourism in Kenya – Kenya Tourism Guide
Visit Kenya
If you are looking for a beautiful place to travel Kenya is the ultimate tourism destination. It provides travelers with a window into the heart of Africa. But this is not all that the destination has to offer.
Located near the equator, Kenya's tourism magic lies in the fact that the country encompasses astounding variety of landscapes and climates, flora and fauna, as well as communities and cultures, home to water sports, a swim with dolphins and adventure.
Between Kenya's fabled Indian Ocean coastline and Africa´s largest fresh water lake is a magic carpet ride of rapid transitions between baobab-speckled coastal lowlands, acacia-dotted grassy savannah and semi-arid plains, lush and picturesque highlands culminating in a snow-capped volcanic peak boasting rare Afro-alpine vegetation, the Great Rift Valley, and the Lake Victoria basin.
Going to the northern part of the country takes you to the Cradle of Mankind, Jade Sea and some pure desert escape, while proceeding south takes you through the Masai plains which comprise some of the world's most diverse wildlife parks.
For an authentic game drive experience, the annual wildebeest migration in the Masai Mara Game Reserve is a must see; every year beginning from July to August, the spectacular dubbed the 8th new wonder of the world is all for your to experience. Infact many tourists come to the country to enjoy an African Safari Kenya as well as an African Honeymoon.
The Big Five, rare birds and animals, apes, insects and unique flora find a natural home within this space. For birds´ lovers; a visit to Lake Nakuru National Park will open doors to several species of birds; the Lake is however famous for its greatest spectacle of earth-flamingoes whose vast number is a sheer spectacle.
Teeing off in one of the top-notch golf courses throughout the country gives tourists a choice right from the shadow of the second highest mountain in Africa – Mt. Kenya to the pristine beaches. This is from the choice of the over 40 golf courses that Kenya boasts of. Where else in the world can you tee off in the Northern Hemisphere and putt in on the Southern Hemisphere? – and in doing so discover that our high altitude conditions add 10% yardage to your stroke, letting you play on a natural high. See a selection of Kenya Golf Safaris.
Kenya offers a tropical sunshine, blue skies and endless silver-white beaches backed by waving palms and tranquil lagoons.
Kenya is indeed magical and a destination that many are eager to visit. See a Map of Kenya
Tourism Industry in Kenya
Kenya aspires to be among the top ten long – haul destinations globally and is working to create an enabling environment to attract increased international flights. lt is notable that air travel, which is the major medium of travel, is now within the reach of majority of local and international tourists. The tremendous growth of the local and regional airlines is a great blessing too to the tourism industry and the Government of Kenya is committed to ensure air travel infrastructure is improved nationally to enable citizens and tourists visit and sample diverse flora and fauna in different parts of Kenya.
Travel Agents in Kenya in play a very important role in ensuring the process of travel is pleasurable, smooth and memorable at all times. They remain the interface between the airlines and the clients and sell the image and expertise of Kenya's service industry.
The Government of Kenya appreciates this important role and their professional commitment to their clients. The Government will continue to partner with the private sector to improve and ensure that Kenya becomes the premier destination of choice for tourists as envisaged in Kenya's vision 2030.
Tourism in Kenya: Money and Currency Tips
There are no restrictions into or out of Kenya for currency transactions. Forex bureau in Kenya are available at airports in Nairobi and major towns in Kenya.
Visitors to Kenya should change foreign currency at banks, bureau de change or authorized hotels. The easiest currencies to exchange are US dollars, pounds Sterling and Euros.
Travelers' cheques are widely accepted, and many hotels, travel agencies, safari companies and restaurants accept credit cards. There are no restrictions on the amount of foreign currency brought to Kenya.
Before departure, travellers are advised to convert any excess Kenya shillings into foreign currency at a bank or bureau de change before departure. Departure taxes can be paid in local or foreign currency. Anyone wishing to take more than 500,000 Kenya Shillings out of the country will require written authorization from the Central Bank.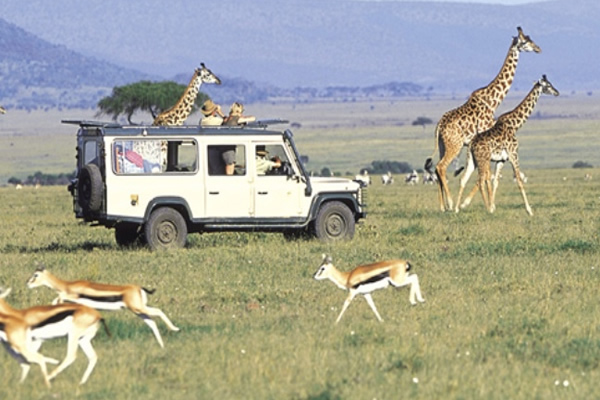 Kenya Tourism Facts – Tourism in Kenya Facts
Kenya Tourism Fact 1: About 44 million people live in Kenya as at the time of this writing.
Kenya Tourism Fact  2: Kenya was a British colony and was under British colonial rule between 1895 and 1963.
Kenya Tourism Fact  3: Kenya's Great Rift Valley was formed around 20 million years ago, when the crust of the Earth was split.
Kenya Tourism Fact  4: Kenya only has only two seasons. One rainy season and one dry season in a year.
Kenya Tourism Fact  5: The capital city of Kenya is Nairobi.
Kenya Tourism Fact  6: There is great disparity between the rich and the poor, those that are rich are very rich and those that are poor are very poor with very few in the middle class
Kenya Tourism Fact  7: Jomo Kenyatta National Airport is the biggest airport in East Africa.
Kenya Tourism Fact  8: Kenyan environmentalist Professor Maathai won the Nobel Peace Prize in 2004. She was the first African woman to win that price
Kenya Tourism Fact  9: Mount Kenya is the highest mountain in Kenya with a height of 5199 meters.
Kenya Tourism Fact  10: The Majority of the people in Kenya are Protestants.
Kenya Tourism Fact  11: About 70 percent of Kenyans are Christians, about 25 percent are adherents of indigenous religions while the remaining 5 to 6 percent are Muslims. There are also Hindus, Sikhs, Parsees, and Bahai's particularly among the Asian communities.
Kenya Tourism Fact  12: Embu tribe in Kenya is famous for dancing on stilts performed by men wearing long black coats and white masks.
Kenya Tourism Fact  13: Kenya's wildlife is unrivalled by any other in the world, both in terms of numbers and variety of species. Thousands of tourists visit Kenya every year to view the wild life particularly the wildebeest migration. Animals such as lion, leopard, buffalo, elephant, rhino, giraffe, zebra, crocodiles, hippopotamus, gazelles, cheetahs, hyena and a wide range of bird species can all be found in Kenya.
Kenya Tourism Fact  14: About 2000 B.C.. Scientists discovered the earliest-known remains of human beings in Kenya. Although very little is known about these people but it's believed that they are the ancestors of today's Kenyans.
Kenya Tourism Fact  15: Masai People, a tribe in Kenya are tall and slender and are known for their skill in the use of weapons and their strongly independent ways.
Kenya Tourism Fact  16: English, Swahili and Numerous indigenous languages are spoken in Kenya. Swahili is also called 'Kiswahili'.
Kenya Tourism Fact  17: The Currency of Kenya is shilling, one shilling = 100 cents.
Kenya Tourism Fact  18: Kenya won independence in 1963 and has been a republic since 1964.
Kenya Tourism Fact  19: In the world stage of sporting activities, Kenya is best known for Athletics
Kenya Tourism Fact  20: About 99% of Kenya's population is made up of black Africans but there are also white Kenyans.
Kenya Tourism – Video
Tourist Attractions in Kenya
Tourism in Kenya – National Parks and Reserve
Aberdares National Park
Amboseli National Park
Arabuko Sokoke National Park
Arawale National Reserve
Bisanandi Reserve
Boni National Reserve
Buffalo Springs National Reserve
Central Island National Park
Chyulu Hills National Park
Dodori National Reserve
Hells Gate National Park
Kakamega Forest National Reserve
Kerio Valley National Reserve
Kiunga Marine National Park
Kora National Reserve
Lake Bogoria National Reserve
Lake Kamnarok National Reserve
Lake Nakuru National Park
Losai National Reserve
Malindi – Watamu Marine National Parks
Malka Mari National Park
Marsabit National Reserve
Masai Mara National Reserve – Masai Mara Game Reserve
Meru National Park
Mombasa Marine National Park
Mount Elgon National Park
Mt. Kenya National Park
Mt. Longonot National Park
Mwea National Reserve
Mwingi National Reserve
Nairobi National Park
Nasalot National Reserve
Ndere Island National Park
Ol-Donyo Sabuk National Park
Rahole National Reserve
Ruma National Park
Saiwa Swamp National Park
Samburu National Reserve
Shaba National Reserve
Shimba Hills National Reserve
Sibiloi National Park
South Kitui National Reserve
South Turkana National Reserve/Park
Tana River Primate Reserve
Tsavo East National Park
Tsavo West National Park
Tourism in Kenya – Wildlife Conservancies
David Sheldrick Wildlife Trust
Haller Wildlife Park
Il Ngwesi Wildlife Conservancy
Kigio Wildlife Conservancy
Laikipia Wildlife Conservancy
Laikipia Wildlife Conservancy
Lewa Wildlife Conservancy
Maralal
Mara Naboisho Conservancy
Mount Suswa Conservancy
Mt. Kenya Wildlife Conservancy
Mugie Wildlife Conservancy
Nairobi Arboretum
Namunyak Wildlife Conservation Trust
Ol Ari Nyiro Conservancy
Ol Kinyei Conservancy
Ololua Forest Trail
Ol Pejeta Conservancy
Sanctuary at Ol-lentille
Selenkay Wildlife Conservancy
Shompole Conservancy
Soysambu Conservancy
West Gate Community Conservancy
Tourism in Kenya – Cultural Centre and Museums
African Heritage House
Baden Powell Museum
Bomas of Kenya
Bombolulu Workshops and Cultural Centre
Desert Museum
Elsamere Nature Reserve
Gede Museum
Hyrax Hill Museum
Jumba La Mtwane
Kabarnet Museum
Kakapel National Monument
Kapenguria Museum
Karen Blixen Museum
Kariandusi Museum
Kenyatta House
KICC – Kenyatta International Conference Centre
Kisumu Museum
Kitale Museum
Kitale Museum
Kogelo – Obama's Ancestral Village
Koitalel Arap Samoei Museum
Lamu Cultural festival
Lamu Island
Lamu Museum
Loiyangalani Desert Museum
Malindi Museum
Meru Museum
Mnarani
Nairobi Gallery
Nairobi National Museum
Narok Museum
Nyangoma Kogelo Village
Nyeri Museum
Olorgesailie
Rabai Museum
Rabai Museum
Railway Museum
Simbi Nyaima Lake
Takwa
Tambach Museum
Thimlich Ohinga
Treasures of Africa Museum
Uhuru Gardens (Nairobi)
Wajir Museum
Tourism in Kenya – Birding Site
Chagaik Arboretum
Chania falls
Crescent Island Game Sanctuary
Fourteen falls
Haller Wildlife Park
Kesubo Swamp
Kigio Wildlife Conservancy
Kisite Mpunguti Marine Park
Kisumu Bird Sanctuary
Laikipia Wildlife Conservancy
Maasai Ostrich Farm
Mwaluganje Elephant Sanctuary
Nairobi Arboretum
Soysambu Conservancy
The Mfangano-Rusinga Island Complex
Tourism in Kenya – Animal Orphanages
Animal Orphanage – Nairobi Kenya
David Sheldrick Wildlife Trust
Lake Elementeita National Reserve
Tourism in Kenya – Animal Sanctuaries
Crater Lake Game Sanctuary
Crescent Island Game Sanctuary
Elsamere Nature Reserve
Garissa Community Giraffe Sanctuary
Giraffe Centre
Giraffe Manor in Kenya
Haller Wildlife Park
Kisumu Impala Sanctuary
Lumo Community Wildlife Sanctuary
Mombasa Mamba Village
Mwaluganje Elephant Sanctuary
Nairobi Mamba Village
Oserengoni Wildlife Sanctuary
Sweetwaters Chimpanzee Sanctuary
Sweetwaters Chimps Sanctuary, Ol Pejeta
Taita Hills Wildlife Sanctuary
Tourism in Kenya – Community Tourism Sites
Bomas of Kenya
Bombolulu Workshops and Cultural Centre
Kazuri Beads and Pottery Centre
Kitale Museum
Kit Mikayi
Kogelo – Obama's Ancestral Village
Lamu Cultural festival
Lamu Island
Loiyangalani Desert Museum
Mfangano Island
Mombasa Old Town
Nyeri Museum
Samburu Maralal International Camel Derby
Wasini Island
Tourism in Kenya – Sports Tourism Sites
Gymkhana Sports Club
Karen Golf Club
Kenya Fly fishers club
Kenya Railways Golf Club
Leisure Lodge Golf Course
Limuru Country Club
Moi International Sports Centre, Kasarani
Mt. Kenya Safari Club
Nairobi City Stadium
Nakuru Golf Club
Nandi Bears Club
Nyali Golf & Country Club
Nyanza Club
Nyayo National Stadium
Nyeri Golf Club
Ruiru Club
Sadili Oval
Safari Seven
Sigona Golf Club
Thika Sports Club
Windsor Golf and Country Club
Tourism in Kenya – Forest
Chagaik Arboretum
Cherangani Hills Forest
Karura Forest
Kereita Forest
Mau Forest
Nairobi Arboretum
Ngong Forest
Ololua Forest Trail
Saboti-Sosio Forest
Siyu Fort
South Nandi Forest
Vanga Jimbo and Kiwegu Mangrove Forest
Tourism in Kenya – Golf  Tourism
Karen Golf Club
Kenya Fly fishers club
Kenya Railways Golf Club
Leisure Lodge Golf Course
Limuru Country Club
Mt. Kenya Safari Club
Nakuru Golf Club
Nandi Bears Club
Nyali Golf & Country Club
Nyanza Club
Nyeri Golf Club
Ruiru Club
Sigona Golf Club
Thika Sports Club
Windsor Golf and Country Club
Tourism in Kenya – Lake and River
Chania falls
Eliye Springs
Kenya Fly fishers club
Kisumu Hippo Point
Kisumu Yatch Club
Lake Baringo
Lake Bogoria
Lake Elmenteita
Lake Jipe
Lake Kamnarok
Lake Logipi
Lake Magadi
Lake Naivasha
Lake Nakuru
Lake Oloiden
Lake Turkana
Lake Victoria
Mfangano Island
Nyahururu Falls
Nyahururu Thompsons Fall
Paradise Lost
Pyramid Island
Shompole Conservancy
Simbi Nyaima Lake
The Mfangano-Rusinga Island Complex
Tourism in Kenya – Archaeological site
Koobi Fora
Olorgesailie
Songhor
The Mfangano-Rusinga Island Complex
Tourism in Kenya – Art Gallery
Fort Jesus
Nairobi Gallery
Nyeri Museum
Olorgesailie
Tourism in Kenya – Boating
Kamokwe Kayaking
Kenya Boats
Kisumu Hippo Point
Kisumu Yatch Club
Sagana Rapids Camp
Tourism in Kenya – Coral Reef
Diani/Chale Marine National Park and Reserve
Kisite Mpunguti Marine Park
Kiunga Marine National Reserve
Malindi Marine Park and Reserve
Mombasa Marine National Park and Reserve
Wasini Island
Watamu Marine Park and Reserve
Kenya Tourism – Monument
American Embassy Memorial Garden
Kakapel National Monument
KICC – Kenyatta International Conference Centre
Lamu Island
Mombasa Tusks
Uhuru Gardens (Nairobi)
Vasco Da Gama Pillar
Tourism in Kenya – Waterfalls
Chania falls
Fourteen falls
Kamburu Dam
Nyahururu Falls
Nyahururu Thompsons Fall
Paradise Lost
Sagana Rapids Camp
Tourism in Kenya – Other Attractions in Kenya
Active Edge, Kerio View
Baracuda Diving
Blue Fin Diving
Crocodiles of the Mara
Crying stone of Ihesi
Crying Stone of Kakamega
English Point Marina
Gedi Ruins In Kenya
Kenyatta International Conventions Centre
Kipepeo Butterfly Project
Laikipia Plateau
Lewa Marathon
Menengai Crater
Mombasa Go-Kart
Nairobi Safari Walk
Ngong Hills
Oserian Farms
Peponi Divers CH
Rhino Charge
Windsor Golf Hotel
Kenya Tourism : Safari in Kenya
Kenya is an ideal destination to take a safari given that the weather is always conducive throughout the year. The natural world and the unchanged ecosystem are a sure attraction for visitors.
Here are some of the safaris offered in Kenya.
Kenya Wildlife Safari
Kenya Camping Safari
Kenya Luxury Safari
Kenya Beach Safari
Kenya Adventure Safari
Kenya Business Safari
Kenya Family Safari
Kenya Coast Safari
Kenya Honeymoon Safari
Kenya Conference Safari
Kenya Golf Safari
Kenya Sport Safari
Kenya Wedding Safari
Kenya Ecotourism Safari
Kenya Flying Safari
Kenya Bird Watching Safari
Kenya Cultural Safari
Kenya Balloon Safari
Religious Safaris and Retreats
Kenya Camel Safari
Kenya Photography Safari
Kenya Disability Safari
Kenya Bird Watching Safaris
Types of Tourism in Kenya
Domestic Tourism in Kenya
Medical Tourism Destination in Kenya
Eco-Tourism in Kenya
Conference Tourism in Kenya
Medical Tourism in Kenya
Sports Tourism in Kenya
Cultural Tourism in Kenya
Tourist Accommodation in Kenya
The tourist accommodation industry in Kenya provides a wide variety – from formal hotels to informal holiday rental houses and cottages, game lodges and reserves, guest houses, youth hostels and bed-and-breakfast establishments.
A variety of promotional material on Kenya is available. Comprehensive guides and maps cover all regions and aspects of interest to tourists, including accommodation
Tourists Vaccination in Kenya
Visitors from yellow-fever belt countries, as well as those who travel through or disembark  in these areas have to be inoculated  against the disease before they arrive in Kenya.
Tourism Travel Documents in Kenya
Following recent legislation, European visitors do not require a tourist visa to enter Kenya, but entry business visas are required.
Every traveler must have a valid passport and, where necessary, a visa. Passport holders from certain countries are exempted from visa requirements. Enquiries can be made at Kenya's diplomatic representative or the Ministry of  Tourism in Nairobi
Kenya Tourism Week
The Kenya Tourism Week is held in the third week of September. During the celebrations, participants explore various attraction sites. The main events are an art exhibition, cuisine, music, culture and a golf tournament.
This festival is a strategy to promote local tourism. It gives local and international tourists an opportunity to travel the country and experience less-explored attraction sites.
Tourism and Tourist Safety and Security in Kenya
Kenyans are extremely friendly and visitors are humbled by their hospitality. Take time to meet ordinary people as they go about their daily business. Kenya deploys regular police patrols in most urban and rural areas.
There is a specialized unit — Tourist Police Unit — that is tasked with the safety of tourists. Stakeholders in the industry have also launched several initiatives aimed at ensuring the safety of travellers.
As in other countries, it is advisable to hand in your passport, traveler's cheques, excess money and any other valuables at hotel reception desks for safe keeping. Alternatively, arrange to hire a safety deposit box. It is advisable not to walk alone in isolated towns or beach areas. Seek advice from your hotel manager or tour representative. Also make a copy of your passport and keep it in your luggage.
Don't carry too much cash with you and often wear a money belt that fits under your clothes. Don't carry a lot of camera equipment, especially in the major cities and towns in Kenya.
Kenya Tourism and Travel Agents in Kenya
Kenya Association of Travel Agents (KATA) advises on choices, special promotions, quality and value of a travel product. It also gives travel options and quotations from suppliers.
KATA also helps with aspects of visitors' trip, including air tickets, accommodation and car hire. If you experience a problem on your trip, they act on your behalf to resolve it.
KATA consultants create, sell and manage products. It understands what visitors want and the products they can deliver. KATA members have the information tourists and other visitors need at their fingertips.
Kenya Tourism Board
Kenya Tourist Board (KTB) was set up in 1997 to promote and market Kenya as a tourist destination internationally and locally. KTB is an independent marketing authority for tourism.
KTB is managed by a board of directors, who are major stakeholders in tourism and a managing director who oversees marketing initiatives and campaigns. Its marketing  campaigns are managed locally by a marketing director and a team of marketing staff, based in the Nairobi offices at Upper Hill.
The campaigns are run together with three international Market Development Representatives ( MDRs) who manage KTB offices overseas. The MDRs cover key source markets in Europe, the UK and the US/Canada, and new emerging markets in Asia, and the Middle East.
Tourism Fund Description
Tourism Fund is a body corporate established under the Tourism Act, 2011 which came into operation on 1st September, 2012 vide special issue Kenya Gazette Supplement No. 93 of 24th August, 2012.The Fund is the legal successor to Catering and Tourism Development Levy Trustees. Catering and Tourism Development Levy Trustees has been in existence since.
Tourism Fund Contacts
Location: NHIF Building, Car Park Tower 5th Floor
Address:P. O. Box 46987 – 00100 GPO Nairobi, Kenya
Tel: +254 020 2714900/1/2/6/7/9
Fax: +254 020 2714911
Mobile: +254 728337499, +254 780400113
Toll Free: 08002210915/08007722109
E-mail: info@tourismfund.co.ke
Kenya Tourism News
Kenya targets 30.4 million tourists by 2030 in new masterplan
Updated: 12.02.2018
The Tourism ministry has unveiled a blueprint that aims to transform Kenya into an innovative and vibrant destination in 12 years' time.
The National Tourism Blueprint 2030 is anchored on product development, marketing, tourism investment promotion, and infrastructure.
It aims to increase the number of foreign and local tourists to 30.4 million over the projected period and increase the number of direct jobs in the tourism industry to 561,800.
Tourism Cabinet Secretary Najib Balala said Kenya's tourism sector must adapt and innovate in line with global trends in order to increase its contribution to the economy.
"Our first priority must be to fix and refresh our tourism product and re-invigorate our engagement with our current markets – both local and international."
"We must introduce new products and expand into new source markets to attract new and more existing visitors," Balala said on Monday.
He spoke at the opening of a two-day National Tourism Stakeholder Forum to discuss the transformative journey for the tourism sector.
He challenged the Tourism Association to move away from banking on exhibitions to attract tourists and embrace digital marketing strategies.
"We have done a whole analysis of all exhibitions in the world and we know which is valuable which is not valuable…but business does not come from exhibitions."
Balala further asked stakeholders to take advantage of Kenya Airways launching direct flights to New York to open up the US market to Kenya.
"Let's partner to address that market. It's highly potential and it's our number one market."
He said the sector can also diversify and take advantage of cruise ships once the new terminal is ready by June.
"I am going to appoint a consultant to take us through a whole strategy on how to benefit from cruise ships," Balala said.
Betty Radier, the Kenya Tourism Board chief executive, said the board has identified 14 strategic initiatives that will be implemented under the country's tourism marketing strategy which was developed last year.
Top among the initiatives is the implementation of a portfolio of Top, Signature and Quality Assured experiences to deliver an exceptional tourist experience to all visitors coming to Kenya.
"Kenya's safari, beach and marine, nature, culture and heritage and city tourism, as well as business tourism will be revamped and transformed into new products and authentic experiences that offer value to visitors coming into the country."
She added: "The Magical Kenya brand will be known for more than just beach and safari but also for adventure trips – be it hiking, trekking or mountain climbing – nature and culture, beach holidays, special interest niches such as bird watching, athletics, golf, water sports, and special celebrations."
The forum is being held against the backdrop of the stellar performance recorded by Kenya's tourism industry in 2017.
The sector recorded a double-digit rise in earnings just under Sh120 billion in revenue receipts, a 20.3 per cent growth in revenue compared to Sh99.69 billion recorded in 2016.
The strong growth was underpinned by a 9.8 per cent growth in total international arrivals by air, sea and cross border in 2017 to 1,474,671 compared to 1,342,899 arrivals in 2016.